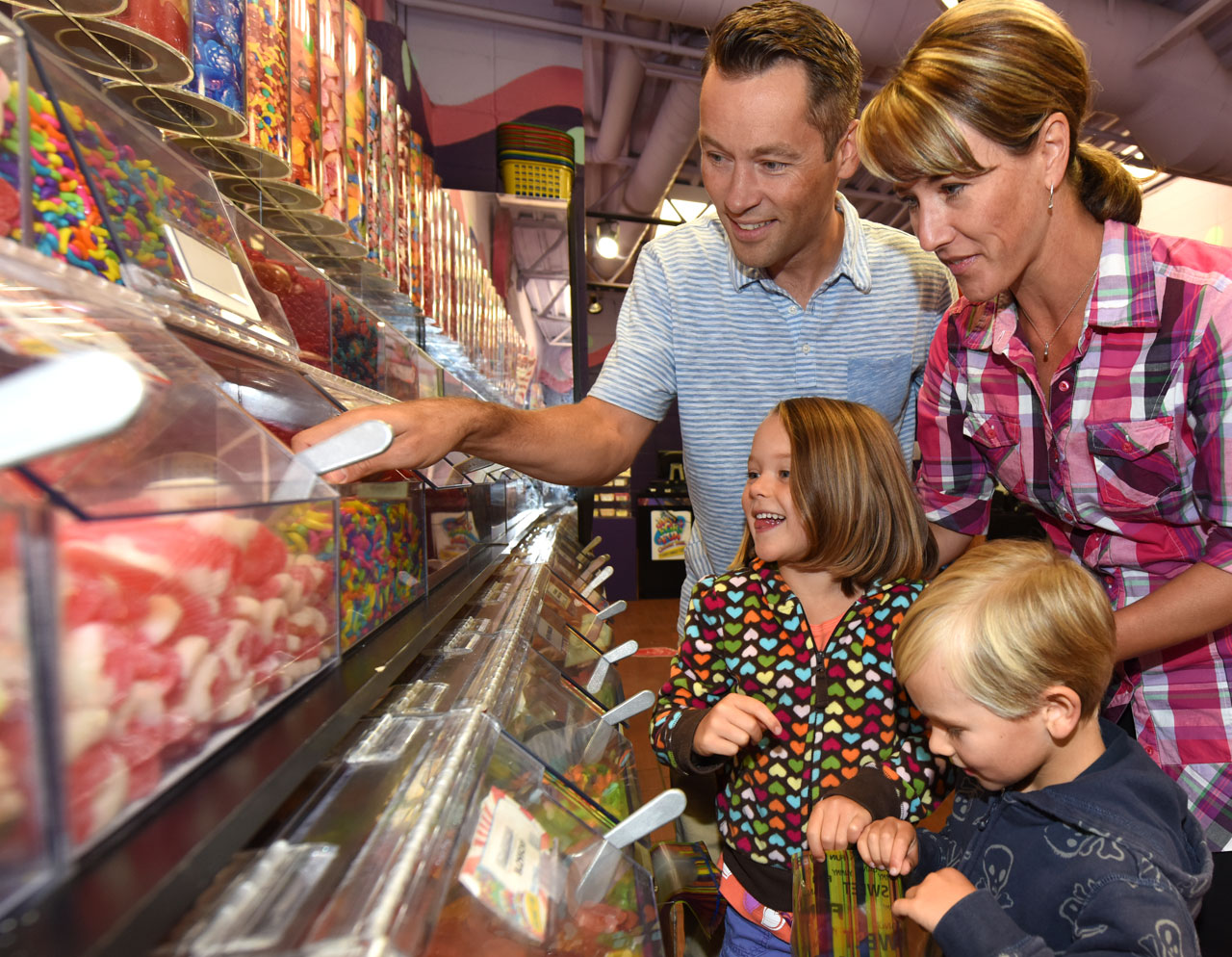 Sweet Toothe
Pop into Sweet Toothe Candy Shop and let your inner child out! Seeing is believing! There are lots of exciting goodies to tempt your tummy! Fill your bag by mixing and matching your favorite bulk candy treats. We offer creamy fudge, lollipops, Pucker Powder candy art, and of course, what would a candy store be without apples! Candy & caramel apples are made fresh daily in our kitchen! A trip to Calaway Park is not complete until you stop by Sweet Toothe!
Village Shop
We've got something for everyone! Get your day off to a great start by stopping first thing in the morning to purchase sunscreen, hats or hoodies. We have stroller rentals for only $9 per day with a piece of ID. Double strollers available for $12 per day. We're open each day in the summer until 7:15pm, however, the best time to shop for fun is around mid-day! We've got aisles and aisles of toys that will make you smile. We've got stuff for mom and dad too! Great selection of sunglasses, umbrellas, trinkets and giftware. The kids already know we've got lots of plush animals, gooey putty, toys, and books! Take home a Calaway Park magnet, hat, or tee shirt to remember your day of fun!
Photo Booths
Capture a picture of you and your family enjoying our Timber Falls log ride and Vortex roller coaster! We offer a selection of 'take home' photo souvenirs that showcase your memories on these thrilling rides! Season Pass holders, purchase a 6 x 8 or a 4 x 6 and Flash Your Pass for a free digital copy that you can share with your friends through social media and email!
Flash Your Pass!
Show your 2023 Season Pass and SAVE all summer long!
2023 Season Pass holders get 10% off at all food and retail locations (except for carts). No cash value. Cannot be combined with any other coupon or special offer.
Upon request, Team Members can provide the food packaging or ingredient list for every item served in that locations.
Depending on the severity of the food allergy, we suggest that you pack a lunch to be on the safe side.
Calaway Park recognizes that Gluten allergies have become more prevalent. We continue to explore new gluten free / gluten friendly option for our menus. Currently we offer a "Gluten Friendly" cheese pizza at our Timber Falls Pizza Co. location.
Allergy Information – Our food products may contain or come into contact with: Wheat / Gluten, Peanuts, Tree Nuts, Dairy, and Other Allergens.