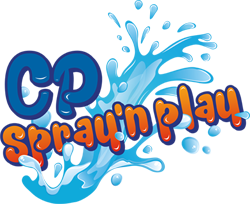 During the Fall, CP Spray n' Play may be closed or delayed in opening due to inclement weather or cooler over night temperatures. 
Make CP Spray n' Play part of your day of fun! With 15 water features it is the perfect way to cool off on a summer day. Best part is CP Spray n' Play is included with your admission to Calaway Park.
Located beside Twiz and Twirl Maze.
Guidelines
Anyone with a skin disease, sores, inflamed eyes, communicable disease, or infectious condition will not be permitted in the water play area.
Any person with diarrhea and/or vomiting or a history of diarrhea and/or vomiting over the past two weeks must not use the water play area.
Pushing, chasing, fighting, roughhousing, running in or around the water play area is not permitted.
Clothing is required.
Food, drink and glass containers are not permitted in the water play area.
No drinking, spitting or spouting of water from the water features.
No urinating in the water play area.
No climbing or playing on the rocks or water features.
This location has a specific capacity limit. The operator will communicate the limit as required.
Children must be actively supervised by a parent/guardian.
This location will shut down in lightning conditions.
Guests exhibiting foul language, and/or disruptive behavior, including disregard for team member's authority, will be asked to leave Calaway Park property.